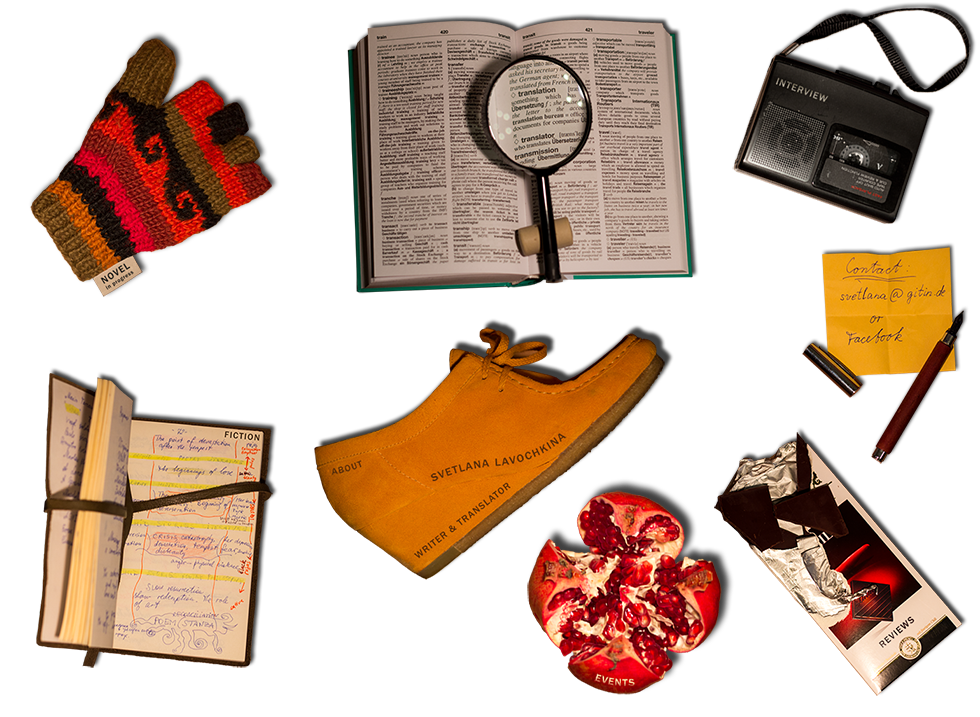 Svetlana Lavochkina (Gitin) is a writer of fiction and translator of Ukrainian and Russian poetry. Her work was published in numerous literary magazines and anthologies in the US and Britain. She was shortlisted for the Million Writers Award in 2010.
Born and educated in Eastern Ukraine, Svetlana currently lives in Germany with her husband and two sons. She is co-founder and president of Leipzig Writers, a non-profit organisation promoting international literary projects.
Crashattic
The Youngest Sea
Semolinian Equinox
Like a Real Man
Rubies the Size of Peas
Vasyl Holoborodko
"A Disaster" in Eclectica
Dmytro Kremin
"A Lost Manuscript" in Eclectica
Vladimir Bogomyakov
"Aga the King of Dogs" in Drunken Boat
Henry F. Tonn, NewPages.com
"One of the best stories I have read this past year is "Semolinian Equinox" by Svetlana Lavochkina, a Ukrainian immigrant who now resides in Leipzig. It portrays the wild and unfettered lives of several students in the 90's at Donetsk University, their struggle for money, food, and cigarettes, their bohemian love lives and personal intrigues, while simultaneously attending classes and attempting to obtain degrees."
review of Chamber Four Fiction Anthology, NewPages.com
"Also included is one of the best stories I read in 2009, "Semolinian Equinox" by Svetlana Lavochkina, a walk on the wild side, Russian style. It concerns the lives and loves of students at Donetsk University in the '90's while they struggle for money and food while trying to attain degrees. This story was also an honorable mention in the Million Writers' Award."
Push Nevahda Review
"Short story writing is a serious craft to learn because it requires a certain mastery of time, space, and reflection. Not many do it well and those who dare to go out on this crooked and unstable limb often return broken, bewildered and bruised. Katherine Mansfield, Zora Neale Hurston, and Charles Bukowski are three of several writers who've mastered the short story form. (I like Svetlana Lavochkina's fresh short story, Like A Real Man.)"
In the summer of 1821, the greatest Russian poet Alexander Pushkin, then a wild young man at the onset of his fame, passes through Zaporozhye, a backwater Ukrainian town. His brief stay at an inn owned by a Jewish family becomes a local legend, a single incident in the tumult of Russian history. Yet the lore of his visit spawns many unknowing generations, until the secret is revealed in a new and unexpected light.
"Zap" is a burlesque family saga whose characters form dynasties embroiled in the polyphonic tragicomedy of relationships and unfulfilled dreams. Under the airtight lid of Soviet totalitarianism, they tirelessly search for their own Grails. The very survival of the soul in the arid spiritual and material landscape forces the characters to come into possession of something valuable, whether it is the genes of a famous literary persona or a pair of genuine Levi's jeans.